JOhn Jay Institute ALumni
Are you a John Jay/Saratoga/Witherspoon alum? Have you recently moved, changed email addresses, gotten married, moved to a new job? If so, please take a moment to complete our Alumni Survey so that we can update your information in our database.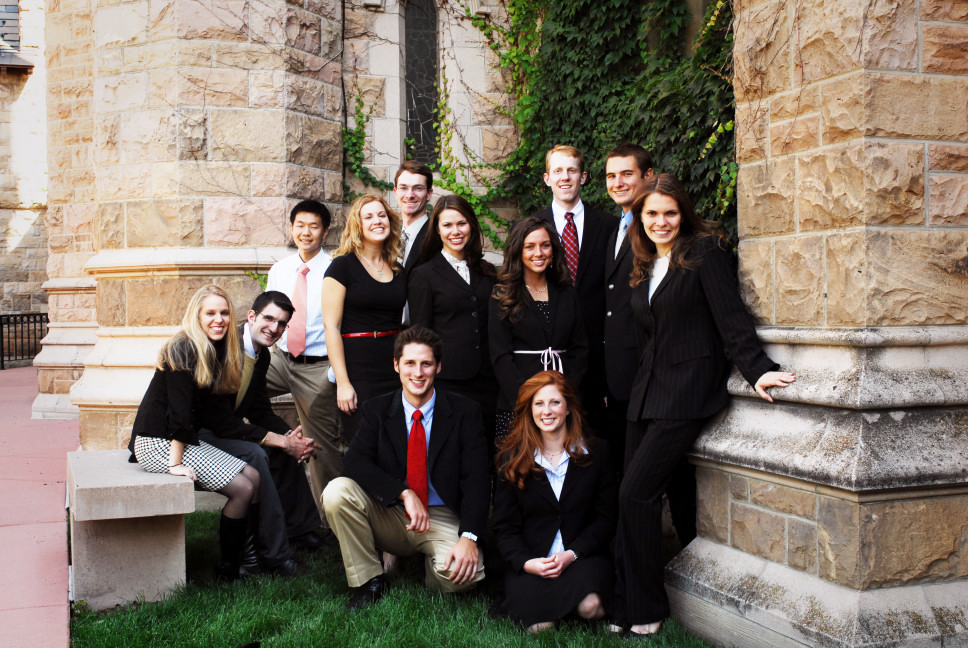 Fall 2007
(L-R) Adrienne (Morehead) Meador, Brandon Showalter, Peter Kim, Lauren Hiskey, Nathan Hitchen, Brian Brown, Stephanie (Warner) Linn, April (Thompson) Lesh, Blakely (Spillar) Dibble, Gresham Kay, Bryan Wandel, Yulia Zolotykh
SPRING 2008
Back row; L-R: Mark Meador, Thomas Richter, Jordan Raney, Samuel VanderPlas, Richard DeJarnette, Joel Paek, The Ven. Alan R. Crippen, II
Front row; L-R: Carolyn (Garris) Raney, Sarah (Aguirre) Origer, Elizabeth Schalchlin, Anna Speckhard, Hyewon (Kim) Kraemer
FALL 2008
Back row; L-R: The Ven. Alan Crippen, II, Charles Davis, III, Jay-Michael Baker, Connor Ewing, Joshua Hiatt, Jonathan Walker, Christopher Donahoe
Front row; L-R: Sophia (Pacanowsky) O'Brien, Elyse Marcellino, Kathryn Krall, Karen (Rupprecht) Taliaferro, Agata Drelova, Allison Perry
FALL 2009
Front row; L-R: The Rev. Dr. Christopher Byaruhanga, Julia Kiewit, Rebekah (Sharpe) Borah, Miriel (Thomas) Reneau, Sally Elizabeth (Forsythe) Crippen, Kristina Olney, Lauren Bobbitt
Back Row; L-R: Bryan Clegg, David Parker, Matus Demko, Jeffrey Witt, Jace Yarbrough, John Balouziyeh, Jr.
FALL 2010
Seated in front, L-R: Esther Moon, Samantha Van Camp, Deborah O'Malley, Laura Hickey
Kneeling in center, L-R: Caleb Crossland, Daniel Green, Melissa (Beckett) Crimmins, Paul Schrampfer
Standing in back, L-R: Kiley (Humphries) Crossland, Karthik Venkatraj, Emilie Noteboom, David Eastman, A. Barrett Bowdre
FALL 2011
Front Row; L-R: Amanda Glatfelter, Marion Gabl, Patricia de Lara, Katie (Geleris) McClendon, Heather (Sherlock) Davis, Rebecca (Redden) Sewell, Lara Barger
Back Row; L-R: Andrew Wipke, Andrew House, Lance McCaskill, Daniel Stinson, David Tomkins, Jose Urquilla, Peter Sulek
SPRING 2012
Front Row; L-R: Julia (McLaughlin) Bogdanovich, Melinda (Sanchez) Donio, Katherine Khorey, Isabel Cacho
Middle Row; L-R: Thomas Bell, Jandi Heagen, Abigail (Cliff) Shelton, Scott O'Rourke
Back Row; L-R: Jonathan Cosgrove, Meredith Head, Benjamin Shelton, Daniel McLendon, Jared McKinney, Kenneth Hager
SARATOGA 2012
Front Row; L-R: Katie Schumacher, Christina England, Jacob Mersino, Tiffany Vegter
Back Row; L-R: The Ven. Alan R. Crippen, II, Austin Fleming, Justin Daniel, Zachary Crippen, Robert Carsey, Alexander Zimmerman, Andrew Nowak, Victor Ten Brink, Mr. Douglas C. Minson. Not pictured: Jeffrey Mellgren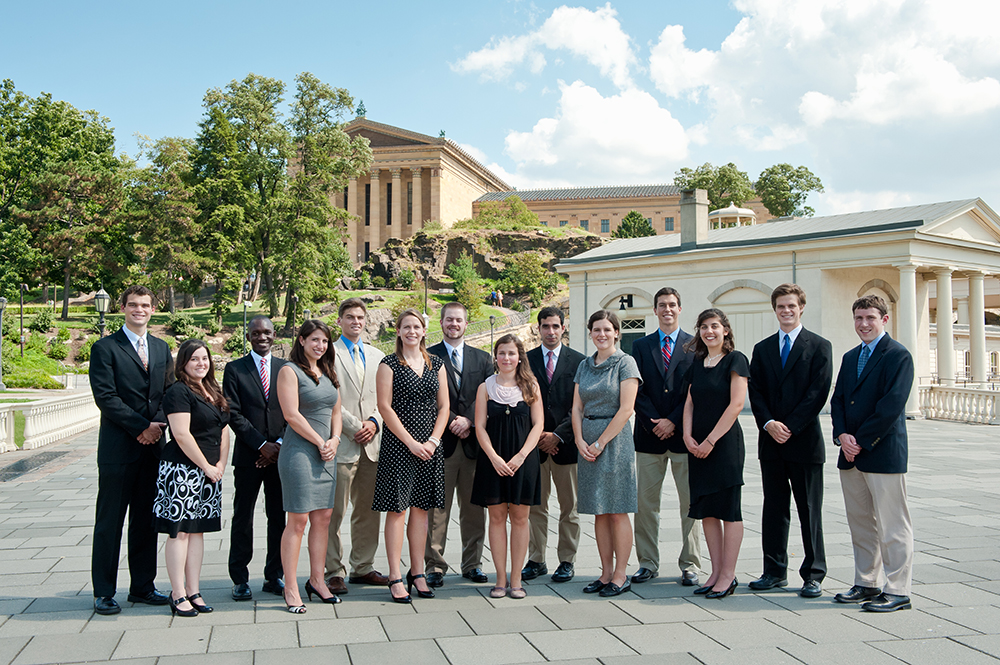 FALL 2012
Front Row; L-R: Rebecca Richards, Brittany (Corona) Vessely, Sarah Czechowicz, Veronica Hlinicanová, Julia (Polese) Mooney, Amira Gabriel
Back Row; L-R: Matthew Selmasska, Dixon Byaruhanga Atuhurra, Brian Lapsa, William Joseph Bone, Daniel Ajamian, Michael Schulte, Tyler Castle, Paul Dupont
SARATOGA 2013
Back Row; L-R: The Ven. Alan R. Crippen, II, Jessica Ward, Patrick Brehany, Matthew Neal, Nathaniel Berry, Pierce Weller, Jake Collick, Lee Brennan
Front Row; L-R: James Van Eerden, Chip Williamson, Jessica Van Horn, Katie Baier, Clarese Neill, Anne Chambers, Lucas Wuebben
FALL 2013
Front Row; L-R: Anna Casey, Havilah Steinman, Virginia McNally, Brittany (Crippen) Basile
Second Row; L-R Hannah Bryan, Kristin Rudolph, Sydney (Thomas) Stubbs, Ashley Blount
Third Row; L-R: David Roth, Jacob Stubbs, Stephen Siao, Karol Brix, Lansdale Henderson
Back Row; L-R: Stephen Herried, Joshua de Gastyne, Matthew Crumb
SPRING 2014
Front Row; L-R: Daniel Defonce, Sarah Ruth Boyer, Alexandria Lane, Bethany Spare, Tsvitana Chudovets, Kristina Skurk, Anna Harp, Daniel Menjivar
Back Row; L-R: Aaron Reitz, Matthew Maule, Michal Magusin, Mitchell Hailstone, Dawn Steele, Katy Doran, Stephen Wood, Thomas Gabler
SARATOGA 2014
Back Row; L-R: Joshua Mote, Joseph Kohm, Mitchell Foor, Taylor Carmichael, Curtis Allen, Nathan Persons, Jeffrey D. Canclini
Front Row; L-R: The Ven. Alan R. Crippen, II, Sally Woodrum, Anthony Castillo, Benjamin Baker, Nicholas Hedlesky, Karlin Joh, Andrew Rotolo
FALL 2014
Back Row; L-R: Don Slagle, Emmett Ackerlund, Robert Burkett, David Dry, Eric Roe
Middle Row; L-R: Richard Fariñas, Nathaniel Madden, Julie Slagle, Caroline Thorman, Isaac Woodward, Robert Wright
Front Row; L-R: Carolyn Kate Farrar, Victoria McCaffrey, Candice Lundquist, Dannie (Hovanec) Wright, Elizabeth (Santorum) Marcalini
SPRING 2015
Back Row; L-R: Kyle Moodhe, Blake Adams, Sean LeBar, Jakub Betinsky, Christopher Goffos, Holly Johnson
Front Row; L-R: Sarah Babb, Stephanie Di Carmine, Rachel Short, Monica Krason, Jennifer Winters, Chaney Mullins, James Clark
SARATOGA 2015
Back Row; L-R: Christian Brindamour, Keith Lemay, Andrew Bossert, Jason Bentley, Taylor Durling
Front Row; L-R: Ernesto Guerrero, Micaela Baca, Kathryn Lowry, Semiramies Hastain, Leanna Marlin
FALL 2015
Back Row; L-R: Worth Loving, Juraj Šeliga, Adam Crain, Felix Miller, Joel Clarkson, Sarah Crockett, Carter Skeel
Front Row; L-R: Emily Haskins, Sarah Telle, Brandon Hershey, Laura Prejean, Emily Krall, Bonnie Cantwell, Joseph Danaher, Rebecca Rethwisch, Margaux Killackey
SPRING 2016
Front Row; L-R: Matthew Shoger, Ashley Bergfield, Claire Aguda, Jared Dobbs, Anna Jeffrey, Ryan Shinkel, Kelsey Boor
Back Row; L-R: Nick Barden, Anna Fronzaglia, Kyle Johnson, Hannah Zarr, Tia Westhoff
SARATOGA 2016
L-R: Micaela Crabtree, Laura Stromback, The Venerable Alan Crippen, II, David Wilkinson, Collin Scarborough, Paul Puddington, Paul Danielson, Thomas Bell (staff), Tasha Talbot, Erin O'Neil
SPRING 2017
Front Row, L-R: Amelia Sims, Amanda Kieffer, Emily Lataif, Brigid Flaherty
Back Row, L-R: Logan Zeppieri, Nathan Beacom, Avery Ross, Wesley Hodges
SARATOGA 2017
L-R: Abigail Culp, Andrew Cho, Paul Genchanok, Jacob Schwanz, Chris Cottrell, Francis Lee, Keith Holmes
Fall 2017
(L-R) Bailey LeBeau, Peter Newman, Sarah Stites, Ross Hougham, Aryana Petrosky, Jared Eckert, Elayne Allen, Jude Schwalbach
Spring 2018
(L-R) Francisco "Bino" Socrates, Gordon "Koty" Arnold, Gabriel Ozuna, Zachary Rogers, Alexandra Nieuwsma, Katherine "Kittie" Helmick, Elizabeth Dewes, Gabrielle Hanley
Saratoga 2018
L-R: Joseph "Walker" Sims, Kurt Caminske, Kaylena Dornes, Jordan Fonville, Ryan Burk
Fall 2018
(L-R) William "Garrett" Bell, Timothy Russell, Garrett Ziegler, Connor Smith, Katerina Levinson, Rebecca "Becca" Richards, Janessa (Blythe) Mackenzie, Kate (Westrick) Schneider
Spring 2019
Front Row: Kyra Cooper, Clare Martin, Julia Bentley, Genevieve McNalis
Back Row: Zane Zovak, Kevin Wilkinson, Roshan Rama, Charlie McKenna